Our classes focus on teaching proper technique to all of our students, regardless of skill level. We welcome you to join us regardless of your experience or training goals.
Our Gym
United Thai Boxing & MMA was established after the Triangle's only Muay Thai-based training gym closed suddenly in 2012. We realized that no other gym in the Triangle area offered authentic Muay Thai-based training with the same frequency and quality. United Thai Boxing & MMA was created to fill this void for everyone from novices looking for a great kickboxing workout to professional Muay Thai and MMA fighters. We chose the name "United Thai Boxing & MMA" because our members are United by a love for Muay Thai, mixed martial arts and the desire to help each other improve through hard work.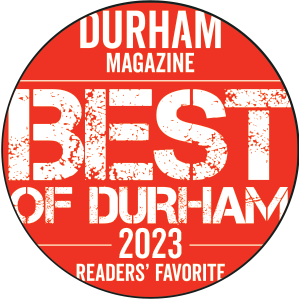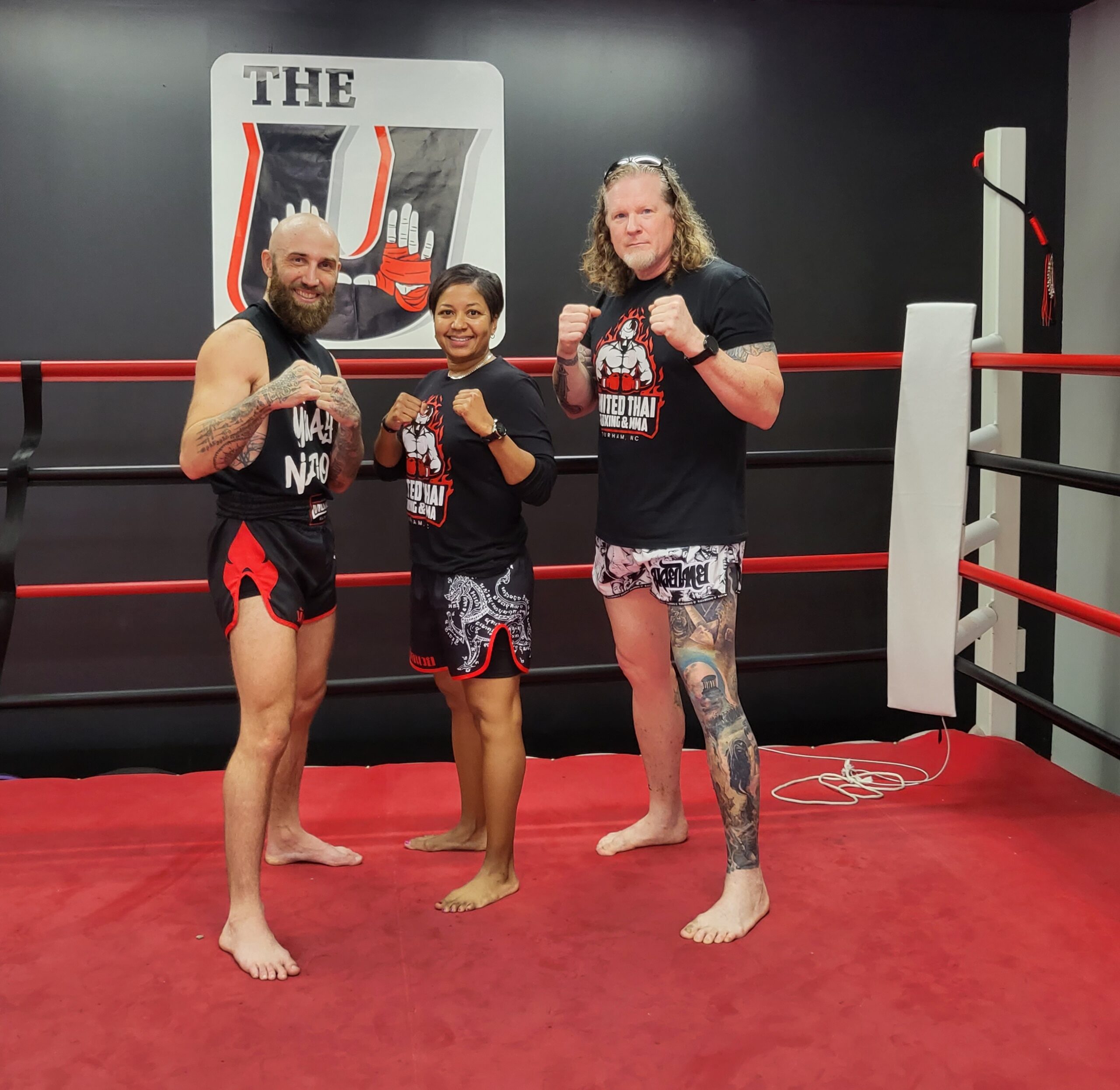 Technique-Focused Instruction
Anthony "Turbo" Bui - Head Instructor / MMA / BJJ
​Martial Arts Experience:
1983–1988 Discipline: Vo Vi Nam Sifu: Van Binh – Houston, TX
1988–1992 Discipline: HS Wrestling Coach: David Shcultz – Huntington Beach, CA
1992–1994 Discipline: College Wrestling/Golden West College & Cal State Fullerton Coach: Mike Gremlin & Tim Maddox – CA
1996–1998 Discipline: Sanshou Sifu: Xian Liu – Mobile, AL
1996 –1998 Discipline: Sanshou & Muay Thai Coach: Mike Altman – Houston, TX
1997–1998 Discipline: Brazilian Jiu Jitsu Professor: Saul Soliz – Houston, TX
1999–2001 Discipline: Muay Thai Coach: Scott Francis – Garner, NC
Teaching Experience:
1996-2001 Assistant Coach – Sanshou & MMA at Houston Kickboxing Gym –Houston, TX
2007–2009 Assistant Coach – Kickboxing & MMA at LA Boxing/UFC Gym – Cary, NC
2007–2008 Assistant Coach – Kickboxing & MMA at Rapid Fitness – Raleigh, NC
2007–2008 Assistant Coach – Kickboxing at Box 2 B Fit – Raleigh, NC
2008–2009 Head Coach – Kickboxing & MMA at RTP Fitness/Ironman MMA –Durham, NC
William "W.W. II" Wilson - Head Boxing Instructor / Pro Boxer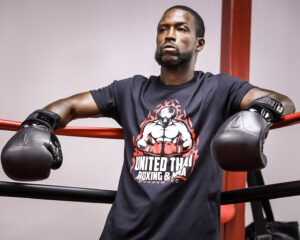 As a professional fighter, William "W.W. II" Wilson is a quick and calculated fighter who reads his opponents, setting the pace of his fights. A fighter fans love to watch, he has fought several live bouts on television. He's a real contender and well known in the NC boxing community.  With 16 pro fights under his belt, W.W. II has proven time and again that he has what it takes to hold his own and be a champion. "Some boxers have never had a loss. I learn from everything I do, win or lose. If I lose a fight, I have actually won if I learned from my mistakes and used the experience to become a better boxer."
William also shares his knowledge as a trainer. Coach William has a natural skill to pull out the best in everyone! He leads by example. Coach trains hard before his class and then holds his students up to the same standard of hard work, dedication, conditioning, drills and use of good technique.  And if you are lucky, he sends you home with homework assignments to make yourself a better person and boxer.  Every class he encourages you to demand more from yourself.
Contact info@unitedthaiboxing.com if you would like to book him on your next fight card or boxing seminar.
Robert Foster - Head Muay Thai Instructor / Strength & Conditioning Coach / Personal Trainer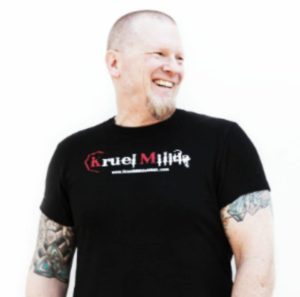 Rob is a Certified Personal Trainer with the National Academy of Sports Medicine and a former Professional Skier, Strength and Conditioning Coach, and Instructor/Trainer with Vail Resorts and Professional Ski Instructors of America. Rob got his start in Martial Arts studying Tang Soo Do and Jeet Kun Do in his teens. He was introduced to Muay Thai in 1990. For 11 years in Colorado, he focused on the Science of Skiing and training skiers; training and certifying over 150 Professional Skiers and Ski Instructors. During the summer, Rob's focus was on Endurance Mountain Bike Racing, competing successfully in 12 hour, 24 hour, 50 mile and 100 mile races. In 2001 Rob became a Police Officer and spent several years in various duties of Law Enforcement. As part of his Police Training he was certified in Police Pressure Point Control Tactics, Koga-Ryu Weapons and Defense Tactics. Rob now resides in Carrboro, NC where he discovered United Thai Boxing & MMA, which rekindled his love of training Muay Thai and the Muay Thai lifestyle.
Marcus "The Irish Hand Grenade" Davis - MMA & Muay Thai Instructor / former UFC fighter
Harold Hubbard - Head Brazilian Jiu Jitsu / Kids Class Instructor
Edward Holley Jr. - Muay Thai / Kids Class Instructor / Fighter
Forrest Carrow - Muay Thai Instructor / Personal Trainer / Fighter
Arielle Moheimani- Muay Thai Instructor / Fighter
Dwayne Brandon - Assistant BJJ Instructor
Amanda Riccio, PHD - Yoga Instructor
Amanda is an energetic, motivated instructor who specializes in Yin Yoga and enjoys bringing yoga to the community.  She has been doing yoga for over 15 years, but always as a compliment to other activities. When Amanda started her PhD, about 7 years ago, she began to go to Bikram yoga classes out of necessity. She needed to balance out her crazy life as a stressed-out, PhD student and since then yoga has really become a focus. After Amanda finished her doctoral, she moved to Montreal, QC, Canada and after a while of doing Bikram yoga everyday, wanted something else. She gradually found herself balancing out her Bikram practice with yin yoga. Doing yin yoga made her less stressed, more focused, and it noticeably helped improve her other yoga practices and overall body positioning. After receiving her yin yoga teaching certificate at Happy Tree Yoga and teaching community classes in Montreal, Amanda was absolutely in love with sharing her practice. She recently moved to Durham, and wants to continue to share yoga in this community, both as a student and as a teacher. She aims to create classes which focus on deep stretching, moving at a slow pace, and general acceptance of where we are in the moment.
Corey Bell - Wrestling Instructor
Corey Bell is a longtime volunteer assistant coach for the Duke Blue Devils after a highly successful wrestling career at The University North Carolina. He works closely with the middle and higher weights and brings an infectious spirit to the program.
The Durham, N.C., native was a four-time ACC champion and NCAA qualifier for the Tar Heels during his collegiate wrestling career.
Bell, who majored in communication studies at North Carolina, was a Carolina ACT mentor, a member of the Black Student Movement and Ebony Readers. He also performed with the band Sankofa while at North Carolina. Bell is a successful entrepreneur and businessman in the Durham-Chapel Hill area.
TK King - Owner / Kickboxing Instructor / Children's Muay Thai Instructor / Personal Trainer
TK has 15 years of computer experience working for top companies in Research Triangle Park, NC, a Swedish company, and as an independent consultant. She was also a technology instructor in the Washington DC metro area. Even though TK was a "tech head" with a Computer Science degree and MBA, her passion for sports could not be denied.  TK lettered in 4 sports in HS, played college basketball and is an inductee in both the W-S/Forsyth County and Bishop McGuinness HS Sports Hall of Fame. TK is a certified personal trainer, USA Boxing certified coach and IKF Kickboxing promoter. Her Muay Thai journey started in 2013 and she did her formal training under Diamond Muay Thai gym in Koh Phangan, Thailand.
TK also learned Dutch kickboxing at Mike's Gym in Amsterdam, owned by top world-class trainer Mike "Big Mike" Passenier.
Kaleb Hunter - Muay Thai Fight Team Instructor
Eric Belcher - Head Fight Camp Instructor
Jae Edwards - Personal Trainer
Remy Bates - Muay Thai Instructor / Personal Trainer / Fighter
Shahzeel Khokhar - Asssistant BJJ Instructor / Kids Class Instructor